Crayon Drawing Contest
Comments off · Posted by admin in News
WEEKLY MEETING
Weekly Meeting
Wednesday, January 26, 2011
7:30pm
Location!
JJ's Market
1912 Broadway # A
Nashville, TN 37203
Parking
There is parking available all around JJ's Market.
Meeting Leader
Joey
What we are doing:
Bring your crayons and drawing hands (Contest details below)
Drink beverages (maybe for free)
Share upcoming events
BEST SCRIBBLE WINS!
Although we might not remember the last time we did, drawing with crayons is something we are all familiar with. This week we're taking it back, way back (way way back).
You must draw something that has effected you thus far in 2011, this can be in a good or bad way. The more profane the better, just make sure it's uncensored.
Meeting participants will vote for the best drawing based on constructiveness and creativity. The winner will be awarded with one beverage from JJ's Market.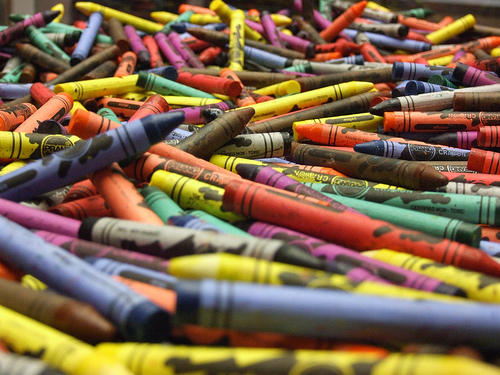 LEARN HOW TO PRICE YOUR ART
Sometimes, as artists, we struggle with the business side that comes with creating art and how to price our works.
This article gives a bases on what to do if you're just starting out.
http://www.artbusiness.com/pricerealistic.html
Of course, always take this with a grain of salt. You are the artist, do what you want.
FROZEN STIFF PHOTOS
Ray & Wendy
http://raywen.org/concert/untitled121710/index.html
More photo sets here:
Carl Lambert
http://www.flickr.com/photos/zenman63/sets/72157625516957897/
Ginny Edwards
http://www.facebook.com/album.php?aid=167018&id=1040884611&fbid=1657415588849&ref=mf
If you took photos or video of the show make sure to post them to our Facebook and Flickr pages, we will share them in next weeks newsletter. Thanks.
Facebook
http://www.facebook.com/home.php?#!/UntitledArtistGroup
CONNECT, FOLLOW & SHARE
Photos
Share and view photos from the show on Flickr!
http://www.flickr.com/groups/untitlednashville
Ray and Wendy's link:
http://raywen.org/concert/glow102210
Thank You for Being a Part of UAG!
Feel free to contact us with any questions!
art · community · Contest · jj's market · Nashville · News · TN · Untitled Artists Group